ACCREDITATION AND APPROVALS
Organic REGULATION (EU) 2018/848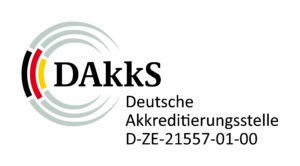 We are accredited by DAkkS according to ISO/IEC 17065:2013. The accreditation covers certifications of products, processes and services in the areas of agricultural production, production of processed food, trade with third countries, import and the contracting out of activities to third parties in accordance with Regulations (EU) No. 2018/848 and applicable implementing regulations.
Here you can download our DAkkS accreditation certificate.
Plants and plant products from agricultural production or from the collection of wild plants, animals and animal products without apiculture and without the production of aquaculture animals and seaweed.
Production of processed food
Units for the preparation of plant and animal products and foodstuffs from plant and animal products.
Retail, warehouse and online marketing (except for the dispensing of pre-packaged products at retail).
Importation of plants and plant products, animals, animal products and foodstuffs from plant and/or animal products, feed, compound feed and feed materials from third countries
Subcontracting of activities to third parties
Entities producing, preparing or importing organic products and subcontracting part or all of the related operations to third parties
HERE YOU CAN LEAVE US A MESSAGE, ASK QUESTIONS OR START A REQUEST FOR CERTIFICATION
GSCI Services GmbH
Axel-Springer-Platz 3
20355 Hamburg
Germany
+49 (0) 40 22866175 0
kontakt@gsci-services.de
GSCI Services GmbH
DE-ÖKO-072
Büro Hamburg
Hans-Henny-Jahnn-Weg 53
22085 Hamburg
+49 (0) 40 2286 6175 0
Büro Freiburg
Klarastraße 94
79106 Freiburg im Breisgau
+49 (0) 761 4587 531 0
kontakt@gsci-services.de
bio@gsci-services.de
textil@gsci-services.de